Congratulations Hannah and Amara!

Bomber Wrestling & Goldmine Wrestling Club are proud to acknowledge athletes Hannah Nelson and Amara Sharp at the 2017 CA-USAW Kids Folkstyle State Wrestling Championships March 18th-19th, 2017 at Selland Arena, Fresno, California.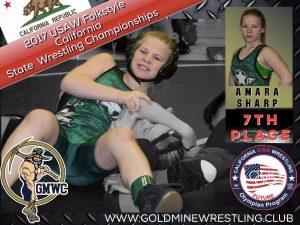 Our two seasoned athletes placed 10th and 7th respectively and were competitive throughout the intense tournament. Both wrestlers were strong, focussed and ready for battle. Each made significant strides in competitiveness and maturity.
There's not a doubt in our minds that these two seasoned wrestlers will reach the top of the awards podium. It's only a matter of time. Hannah and Amara gave our community yet another reason to be proud of it's student-athletes. These two wrestlers and their teammates are putting in the time to propel our program forward.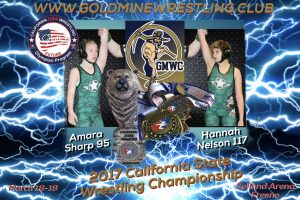 Congratulations Hannah and Amara, we're proud of every second you put in on the practice mat. Your prowess on the competition mat is a testament to the dedication and commitment to excellence that each of you embodies!
As a club, Goldmine is headed in the right direction. High caliber events such as this provide a valuable learning experience for all of our wrestlers. Tough matches can help to develop tough wrestlers.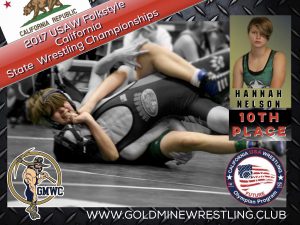 Our athletes and coaches are putting in the time to continually improve. Coach Tiffany Nelson, who led our wrestlers at the state tournament, is fast becoming a recognized and accomplished coach amongst her peers. In addition, Coach Nelson, who is working toward earning her NCEP Silver level coaches certification, successfully presented a coaching course prior to the tournament with 50+ coaches from throughout California attending. She has stepped into a position of leadership amongst her peers and mentorship with our upcoming wrestlers. Coach Nelson showed class, character, and leadership in planning, preparing and creating a positive and professional environment where our athletes could excel this weekend. 
On the state level horizon for Goldmine wrestling will be the Kids California Greco-Roman State Wrestling Championships May 12th-13th at Selland Arena, Fresno, Ca.